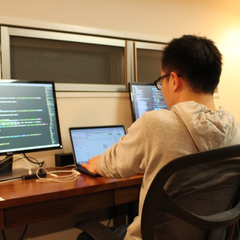 Jimmy Huang
自我
Technical Manager

Tokyo

Joined on 2017/07/06
Sign up to view full profile
Self introduction
Born in Taiwan, I'm now working as a technical manager in a Japan Startup.

Taking advantage of technology binding with design to realize ideas and make life much better is always attracting to me. Although majoring in Mechanical Engineering in both college and graduate school, I decide to change my career to IT after two years of different exploring in NCKU as a assistant.

Worked at Yahoo Taiwan as a Front End engineer was a very good experience for me. Not only learning lots of skill but also make me more international by collaborating with other people from different country.

After Yahoo Taiwan, I change to another internet auction company, Ruten. That was a very different experience for me. Instead of just developing main product, I was also responsible for setting the developing rule and developing process for other people to use and follow to ensure coding quality. Instructing other junior engineers is also one of the jobs.

Working in Japan is another milestone for me. Not only job content but also different language, culture and experience came to my life.

Just keep going.
Work experience
Technical Manager

Senior Front End Engineer

2014-01 - 2017-02

Front End Engineer

2012-02-01 - 2013-12
Portfolio
Portfolio from 2009 to 2011

2011-9
Education
Master

2009-06

Bachelor

2007-06
Clubs/volunteering
Guitar Club

2000-7 - 2003-4

Badminton Club

2003-11 - 2007-6
Languages
English

Professional

Japanese

Conversational

Chinese

Native
Recommendations
No recommendations