急成長!観光ビジネスを加速させたいプロジェクトメンバー募集!!!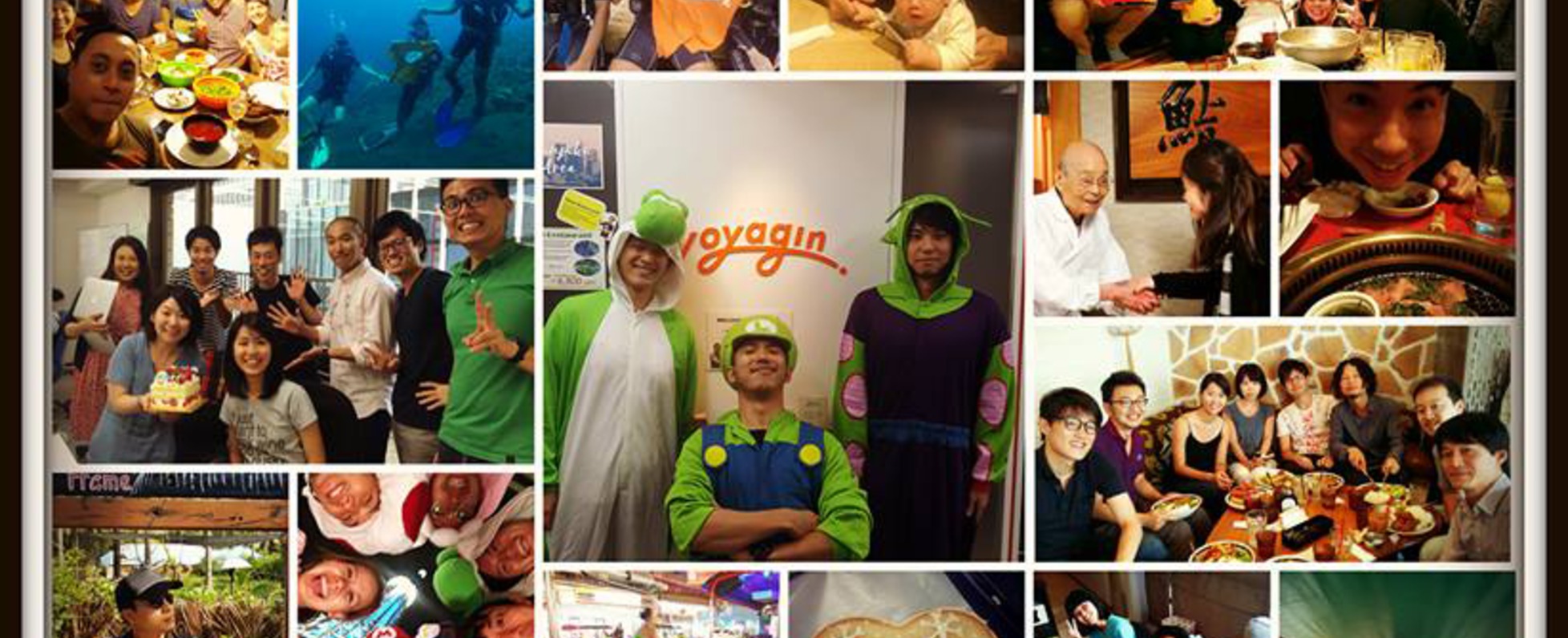 アウトソーシング企業で国内・海外拠点のBPO事業、コールセンター事業に関する新規事業構築、プロジェクトマネジメントを経験。
某企業でSCM事業の構築を成功させた事をきっかけにこれまでの経験を事業の立ち上げに活かしたいと考え、Voyaginに転職。

きっかけは事業内容に興味をもったことでしたが、入社後は一緒に働くメンバにも恵まれ、チームで仕事の達成感が作れる良い環境です!

日本に来る旅行者1人1人に最高の体験を届けるためにチーム一丸で頑張ってます!

Henry Bellinger
Internet Genie

Jessica May

About Voyagin
Voyagin (a subsidiary of Rakuten, Inc.'s travel division) is the leading platform to book tickets to attractions, tours, and activities in Asia. Launched in late 2012, our mission is to help travelers discover and book the best travel experiences all across Asia. Our website features over 3,000 things to do in over 50 destinations in Asia including cultural activities, romantic dinners, adventure experiences, private guides, and tickets to the best attractions bookable in advance or in-destination via our mobile optimized website.
At Voyagin, we're dedicated to building a new travel experience and a whole new way for you to discover and book the best tours, activities, and tickets in Asia, but we can't do this without a great team - that includes YOU! Together, we work to deliver that perfect experience, both online and offline, so that travelers to Asia can enjoy the best things to do. We've seen incredible growth in the past year, but these are just the early days; join our team to shape the future of the tours and activities space!
Work with a multinational team - not only is our team spread across the globe, but a lot of us also have very diverse backgrounds. At the very least, we promise it'll be interesting.
Ability to work with the giants. As part of Rakuten, Japan's largest e-commerce site and one of the biggest internet companies in the world, there is lots to learn.
<仕事内容>
Voyaginのプロジェクトマネジメント部で、業務を推進して頂きます。主に、企業・官公庁・全国の県や市区町村向けに"インバウンド"を切り口としたプロジェクトをお任せします。
新規事業及びサービスの企画立案・立上を担う可能性もある、やりがいのあるポジションです。年齢に関係なく、優秀な方であればどんどん大きな仕事を任せてもらい、自由に挑戦できる企業風土です。日本が世界に誇れる文化を世界に向けてPRしていきませんか?
<年齢>
社会人経験5年以上 ※または3年以上
<その他>
ビジネスレベルの英語(TOEIC800点以上)
業務改善(BPR)経験があると望ましい
Basic info
Looking for
プロジェクトマネージャー
Job type
New grad/entry level / Mid-career / Contract work
Special features
Use foreign languages
Company info
Founded on
July, 2011
Industries
Leisure