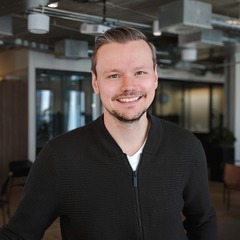 Florian Bacinski
Mistakes are the portals of discovery.
Marketing Lead Germany

Berlin

Joined on 2018/01/14
Sign up to view full profile
Self introduction
I started as a working student for Käuferportal in the SEA Unit in 2010 and started my traineeship there in 2011. After helping to build up the Display Unit in 2014, I had the honor to became their Teamlead. My passionate, hard working Team and I were able to help accelerating the growth of Käuferportal. Käuferportal is now the biggest Lead-Generation Company in Europe. In 2016 I joined the Sparkasse Finanzportal, a digital agency specialized in developing digital products and running online campaigns for Banks. There I learned a lot about media planning. In December 2016 I joined Viessmann, a german heating company, and built up their paid media campaigns and ran their RTB campaigns. At Viessmann I had the pleasure to work with a great design & creative team and had the chance to run brand and performance campaigns.
Work experience
Marketing Lead Germany

2018-05 -

Senior Performance Marketing Manager

Accelerating Digital Growth (Lead Generation) Paid Media - SEA, Display, Native Ads, Paid Social & Retargeting Programmatic Advertising

2017-05 - 2018-04

Senior Performance Marketing Manager

Accelerating Digital Growth (Lead Generation) Paid Media - SEA, Display, Native Ads, Paid Social & Retargeting

2016-12 - 2017-04

Key Account Management Berliner Sparkasse Online media planning & digital growth (Paid Media) Reporting & data analysis

2016-01 - 2016-11

Teamlead Display Marketing & Cooperations

2014-07 - 2015-12

Senior Online Marketing Manager

2013-11 - 2014-06

Display Manager

2013-06 - 2013-10

Junior Online Marketing Manager

2012-06 - 2013-05

Trainee

Online Marketing

2011-06 - 2012-05

Werkstudent

Online Marketing

2010-08 - 2011-05

Project Management for infrastructure & innovation projects in the new eastern states of Germany

2006-08 - 2006-10
Education
Master of Science in Economics

Majored in Economic History - "The Berlin Stock Exchange in the early
19th century"

2012-10
Languages
German

Native

English

Professional

Portuguese

Conversational
Recommendations
No recommendations